Intelligent Building Design for Offices
Parallel Technologies offers intelligent building solutions for office buildings and campuses that are designed with you in mind, resulting in cost savings and peace of mind.
Intelligent building solutions give your organization benefits such as advanced energy management systems, networked energy controls, and brilliant building facilities that empower your staff because they work in a healthy environment encompassed with optimum operational efficiency.
Intelligent building solutions from Parallel Technologies help manage your systems like heating and cooling, which account for half of all energy used by the typical office building according to the U.S. Department of Energy. These same building solutions automate your facility so you can combat costs, be more responsible in regulating energy use, and give you powerful data to drive decisions.
Smart buildings allow you to leverage data across your facility so you can collect your building analytics data from your building energy management system to get a unified, real-time view of operating performance, and drive improvements. After all, the goal is to improve building operations while using your historical data to find unnecessary resource costs, identify performance issues, and prioritize projects with your building management platform.
At Parallel Technologies, it's our goal to guide you in driving action that engages occupants while empowering your workplace. Over the last decade, workplaces have evolved from cubicles into open-plan workspaces, which have then turned into activity-based workspaces. Buildings have transformed from standalone rectangles to places where people want to immerse themselves, be connected, and collaborate.
The demographics of a company's workforce are changing. The teenagers of today are the leaders of tomorrow, and their needs of how they'll work will be a lot different to today's workforce. Intelligent building design and smart buildings are a new minimum standard to compete for relevance in the modern age, with features like sensors collecting data to software that turns data into actionable improvements.
Smart buildings are merging technology and design for workplace wellness. Long gone are the days when employees sit all day in inflexible workspaces, adjusting themselves and their needs to the physical conditions of their workplace. The new model for the workplace no longer fits employees into a predesigned worksite rather redesigns the worksite to fit the needs of the employee. Just like our smartphones and smartwatches, workplaces are being reinvented to be just as smart.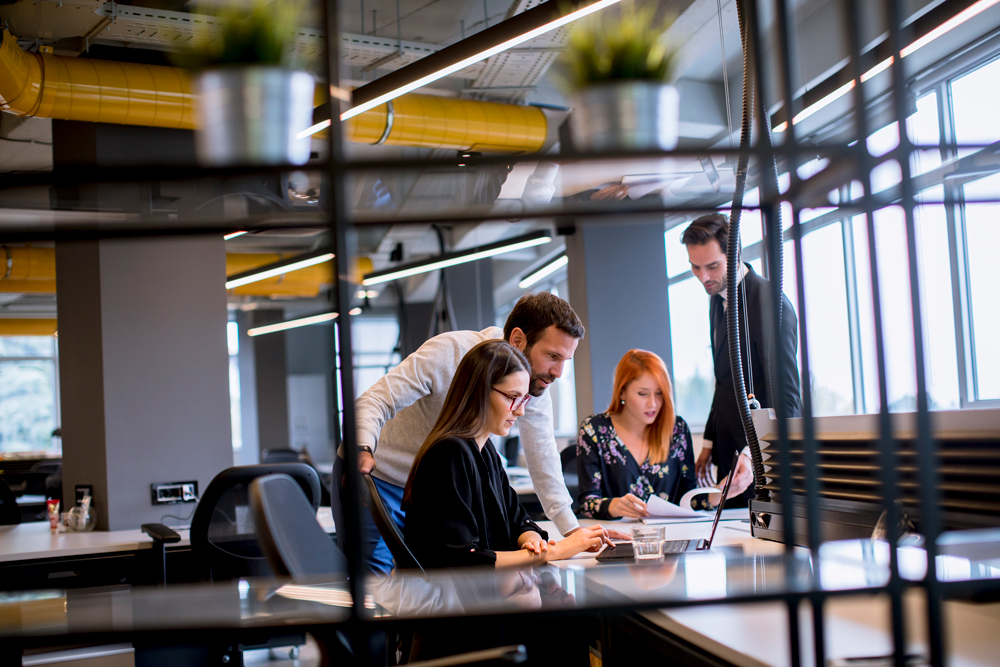 Intelligent building design facilitates and improves employee wellbeing and performance by modifying their environment to the internet through things such as lighting, heating, ventilation, and air conditioning systems, office chairs and desks, coffee machines, and even whole office spaces. Smart technology collects data from these objects and generates automated and controlled responses to improve an employee's health and productivity.
Benefits of intelligent buildings for offices spaces and corporate campuses are:
Better exposure to natural light
Better health for employees
Improved cognitive ability
Intelligent lighting systems work in sync with the body's circadian rhythms, exposing your employees and staff to the right amount of light needed to stay alert and active during the day. Employees who work from home may also find smart bulbs an efficient way of getting work done and still getting the right amount of rest. This type of smart lighting technology benefits the occupants of the building and also impacts the environment through the bottom line.
Offices and corporate campuses of the future will eliminate closed office spaces, unnecessary long hours of working on a spot, and the attendant ergonomic problems of traditional office designs because they instead connect workspaces that match office structure and conditions to the primary task at hand. Intelligent building design uses smart infrastructure including chairs and rooms that assess employee physical needs, room occupancy, and real-time location to optimize productivity and wellbeing.
At Parallel Technologies that's what we build. We empower people through intelligent buildings, like office buildings and corporate campuses.
Start empowering your people through intelligent building solutions, today.