Your Trusted Security Partner for City and County Government
At Parallel Technologies, we have a deep understanding of the unique security challenges faced by city and county organizations.
We are dedicated to providing comprehensive solutions tailored to meet your specific needs. With our extensive experience in working with large city and county organizations, we offer a range of cutting-edge security services to ensure the safety and well-being of your community.  Our key services include:
Security Decision Management
With our advanced surveillance systems, you can stay informed about unfolding events in real-time and make well-informed decisions swiftly. Our streamlined response coordination between stakeholders expedites incident resolution, creating a safer environment for everyone involved. 
Incident Investigations
We implement state-of-the-art Digital Evidence Management Systems to facilitate seamless collaboration between agencies, operations, attorneys, and the public. Our integrated solutions provide a centralized platform for reviewing all the information you need, making investigations and process reviews more efficient than ever before. 
Automatic License Plate Recognition
Our systems alert you to unwanted or unpermitted vehicles, providing real-time insights into your environment and empowering your team to work with greater efficiency. By combining video and other systems, you get a complete and comprehensive picture of any situation. 
Crime Prevention and Deterrence
Our surveillance systems act as a powerful deterrent to criminal activities within your premises. Potential offenders will think twice before attempting any illegal activities, thereby reducing the likelihood of theft, vandalism, or unauthorized access.
Visual Mapping and Tracking
Our solutions offer visual mapping and tracking capabilities, enhancing your situational awareness and helping you respond effectively to any unfolding events. 
Intrusion Prevention
Keeping your community safe is our top priority. Our intrusion systems are designed to perform under any circumstance, ensuring the protection of your properties, assets, and, most importantly, your people.
Asset Protection
We understand the value of the assets, sensitive information, and critical infrastructure owned by county organizations. Our surveillance systems provide an extra layer of protection against theft, damage, and sabotage, safeguarding what matters most to you. 
Contact us today to discuss your security needs and let our team of experts help you create a safer and more secure environment for everyone. Together, we will build a strong foundation of protection and peace of mind, ensuring the well-being and prosperity of your community.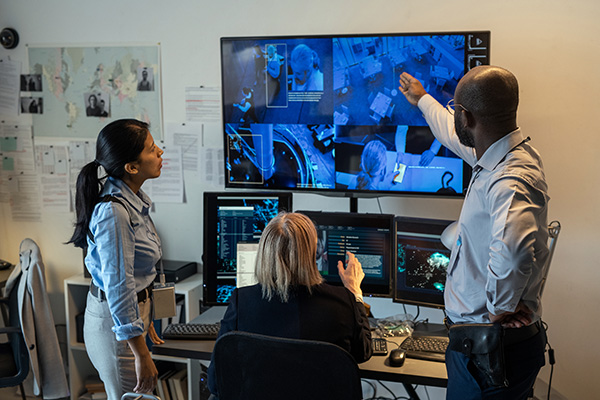 Start empowering your people through intelligent building solutions, today.