Dale Klein
President & CEO
Dale has 25 years of experience in technology and business, and 19 years holding executive positions in high-growth technology firms. He has transformed the cabling services company into a high-growth technology company by demonstrating to clients how IT and facility infrastructure solutions can drive strategic value.
Dale's passion is to drive a combination of proven and new infrastructure technologies to solve building and data center challenges to achieve superior performance, reduce risk and preserve capital.
Karrie Schwartz
Integrator
Karrie attended St. John Fisher College in Victor, NY, earning a Bachelor's degree in Mass Communications/Journalism, with a minor in Political Science.  With more than 15 years of experience in the industry, Karrie has served in a number of capacities; from administration to project delivery, and has interfaced with our clients, partners, and vendors, as well as across internal departments.  Karrie is well-versed in data center construction management, IT systems design & implementations, as well as process development and has a strong financial background.  Her business acumen and financial aptitude, coupled with her ability to see the overall picture lends itself well to her role in directing company operations.  Karrie thrives in challenging environments, where creativity collides with technology to produce brilliant results.
Karrie holds responsibility for the day-to-day operations of the company, including key processes and systems, operational issues, and the engagement of our employees.  Karrie provides leadership to the team around larger initiatives, strategy and planning, organizational alignment, culture, and core values.  Karrie also handles contracts, legal, and insurance.
Norm Spear
General Manager, Building Infrastructure
As General Manager of Building Infrastructure Delivery, Norm is responsible for the implementation of Intelligent Buildings infrastructure. With more than 20 years of experience Norm has managed projects for local and national facilities.
Norm is skilled at assessing environments for risk and developing a technology roadmap to provide a safer and more secure environment. An expert in physical security, he thoroughly understands the application of video surveillance, card access, emergency response, distributed antenna systems, IP networking and low voltage connectivity.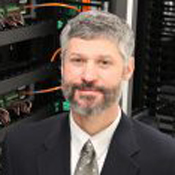 Matt Schwartz
Director of Engineering and Technology
As Director of Engineering and Technology, Matt's focus is on the impact of technology in the deployment of building infrastructure. In his role, he oversees the selection, estimation, design and delivery of projects with integrated technologies.  Matt's previous experience in data center design and construction has brought an emphasis on highly reliable and scalable solutions to Parallel's deployment of smart building infrastructure.  Since joining Parallel in 2013, Matt has been instrumental in identifying (and integrating) new technologies which improve the performance of customer buildings. A true engineer at heart, Matt holds Mechanical Engineering degrees from Carnegie-Mellon University (BS) and the University of New Mexico (MS).
Mark Bonde
Sales and Marketing Director
Mark's experience in the industry has made him a strategic-minded leader, that uses his continuous drive to take the company to new heights. Mark has designed and implemented a strategic sales process that expands the company's customer base and nurtures our existing relationships. As the sales manager, Mark supports the account managers to excel and hit their sales targets by aiding them to achieve success on their own. Mark performs every day to the best of his ability and expects the same out of our team to ensure we create the best experience for our customers.
Sam Neuenschwander
Director of Delivery
Sam's primary responsibility is creating efficiencies and processes that harness a great customer experience. Sam oversees delivery both on the service and project level and has an extensive background in management. For over 10 years he has been responsible for building and managing technology teams from the ground up and leading business process improvements. Sam has a heavy tech background, holding operational and leadership roles at a variety of information technology companies and has degrees in Mathematics and Computer Information Systems and a minor in Business from University of Mary.
Start empowering your people through intelligent building solutions, today.