At Parallel Technologies, we take pride in our unwavering commitment to providing exceptional service to our valued customers.
We understand that your technology infrastructure is vital to the success of your business, and we are dedicated to ensuring minimal downtime and maximum efficiency. Here are the key aspects of our service commitment:
24/7/365 On-Call Service
We have a dedicated team available around the clock, 365 days a year, to address any service-related issues you may encounter. Whether it's a weekday, weekend, or holiday, you can rely on us to be there for you, providing prompt and reliable support. 
On-Site Emergency Response
We recognize that emergencies can occur at any time, jeopardizing your business continuity. That's why we offer on-site emergency response services. Our highly skilled technicians will promptly arrive at your location to assess the situation and implement effective solutions, mitigating any critical issues.
Prompt Response
We understand that time is of the essence when it comes to resolving technical issues. When you reach out to us for assistance, we prioritize your needs and strive to respond promptly. Our goal is to minimize any disruptions to your business operations and ensure a seamless experience. 
Troubleshooting Expertise
Our team consists of experienced professionals who possess extensive expertise in troubleshooting a wide range of technology systems. They stay up to date with the latest industry trends and have the knowledge and skills necessary to diagnose and resolve complex issues efficiently. You can trust us to restore your systems to optimal performance.
Stocked Vans
We understand that time is of the essence when it comes to resolving technical issues. To minimize downtime, we maintain fully stocked service vans equipped with a comprehensive inventory of parts. This ensures that our technicians have immediate access to the necessary components, enabling them to swiftly address and resolve any issues that may arise. 
At Parallel Technologies, our commitment to service is rooted in reliability, expertise, responsiveness, and a deep understanding of your unique business needs. We strive to be your trusted partner, working closely with you to maintain and optimize your technology infrastructure. With us by your side, you can focus on your core business objectives with confidence, knowing that your technology needs are in capable hands.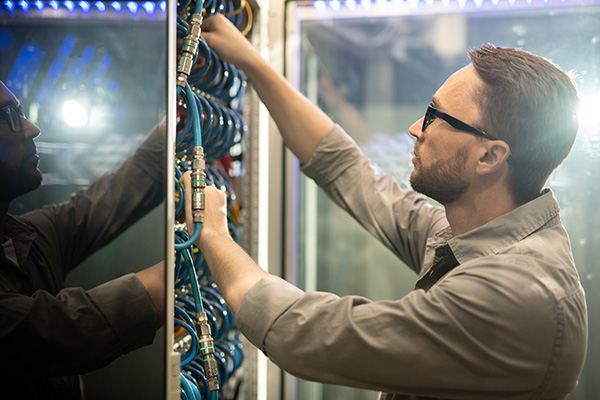 Start empowering your people through intelligent building solutions, today.