Wi-Fi may be the clear frontrunner technology when it comes to corporate wireless communications, but did you know that depending on your needs, private LTE may be better for your organization? When we hear "LTE", most of us think of carrier services. But did you know that enterprise businesses can build out their own private LTE networks?
What is It?
When we think of LTE most of us think of carrier services, but businesses can use their own private LTE. Private LTE is a dedicated cellular network (cell sites, infrastructure, and servers) that is independent of a carrier's macro (outdoor) cellular network. Enterprise businesses can support the connectivity for their organization on a private LTE network. Think your cell phone's LTE but specific and private to a company.
Private LTE is available to wireless devices; much like public 5G cellular networks and Wi-Fi, your device needs to be compatible with the wireless technology. A Private LTE network is designed to be less crowded and more secure than a public network and it can also offer higher levels of data transfer that would typically stress a public network. Private LTE offers a superior experience when using today's high bandwidth applications.
Business Uses
Private LTE is expected to grow in popularity in the coming years due to security, scalability and resiliency beyond what a standard Wi-Fi network or carrier-built network can provide. Traditionally, Wi-Fi is more vulnerable to malicious attacks than cellular connectivity, it does not make use of encryption that is standard on cellular networks. However, when is it the best option?
When your organization has a need to customize mission-critical applications with high security and low latency requirements on your corporate network, then private LTE should be seriously considered. Private LTE networks provide better quality of service (QoS) than competing Wi-Fi networks through their ability to prioritize network traffic, client access, and available bandwidth. Expert advice is that private LTE will be more cost-effective than competing wireless technologies because the infrastructure is less expensive to deploy and end users can operate their private cellular network without incurring monthly data access charges for devices on the Private LTE network.
In the end, we know Wi-Fi isn't going anywhere, but we are seeing a trend of private LTE being the best option for many organizations, and we expect private LTE to only grow in popularity.
Contact Parallel Technologies today to discuss options for your enterprise grade private LTE network.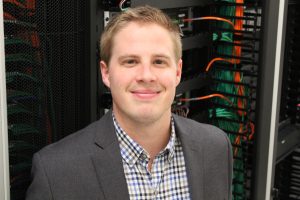 About the Author
Phil is Parallel's Distributed Antenna Solutions Architect responsible for overseeing the DAS team from assessment to delivery. Phil has a keen knowledge of the complexities of wireless systems and is curious for better DAS solutions from large stadiums to small office buildings.