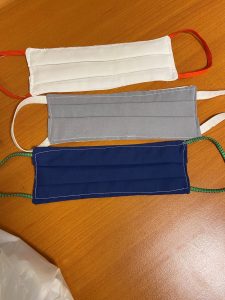 Human Resource Administrator Jessica Sifferle hasn't been at Parallel Technologies for very long, but she is certainly living out our Core Values (e.g. curiosity for better solutions, collaborative teamwork, exceeding expectations) to the fullest. As our world continues to change regarding the COVID-19 pandemic, we wanted our field technician team to have the proper personal protection equipment (PPE) while on site. However, the demand for these items is making them hard to get ahold of, particularly masks. Jessica stepped up to the task and wanted to help.
Materials for masks are scarce but she rounded up family and friends to help. "I think the biggest challenge has been time and materials. My grandmother and my mother-in-law have been helping by giving me left over fabric, elastic [since we can't find them at any stores] and other bungee-like materials". Once she found what she needed, she got to work creating two masks for each field tech until our disposable masks come in.
Jessica said, "Although a mask may not seem overly difficult to sew, there is always a bit of a learning curve. I have only been sewing for two years. I made my daughters costume a year ago and have done a few other little projects since then."
Thank you, Jessica, for being Curious to Find Better Solutions in a time of need.