Those who work at Parallel know why it is a great place to work and this year we are so proud to announce our spot on the 2021 Star Tribune's Top 175 Workplaces, an achievement we don't take lightly.
Star Tribune Top Workplaces recognizes companies in Minnesota based on employee opinions measuring engagement, organizational health and satisfaction. The rankings are based on survey information collected by Energage, an independent company specializing in employee engagement and retention.
Nearly 3,000 organizations were invited to participate in the survey, and over 76,000 employees shared their views. We are honored to be included in the list of Top Workplaces.
I sat down with President & CEO Dale Klein to dive deeper into why Parallel has made this honor 6 years in a row:
This year marks 6 years in a row that Parallel Technologies has placed in the Star Tribune's Top Workplaces. Why do you think that is?
Culture and core values are very important to Parallel, and we believe people are our greatest assets. We are in the service business, and everything requires people to be at their best if we are to be a top performing company in our industry.  This also requires our leaders to take the time to listen to our team to understand them as people.  We spend time talking about the Parallel mission and how everyone is important for successful outcomes.  I suppose in the end we all spend a lot of time working, so we try to make it a great environment. 
2020 and early 2021 was a difficult time for most organizations to maintain collaboration and culture. What did Parallel do to keep collaboration, culture and employee morale alive in a Pandemic?
Honestly, it was tough.  There was so much uncertainty during the COVID pandemic and it was difficult to know how everything was going to play out. My primary goal was to be transparent with our plans to navigate the pandemic crisis. I believe people can handle things well if they understand what the situation and the plan is.  This type of communication created a foundation of trust that we needed to work together to get through the pandemic together. I am proud of the Parallel team; how they came together through this challenging time. I believe we are stronger today because of it.
While I believe conducting business face-to-face is best, Microsoft Teams allowed us to effectively collaborate online to continue operating the business. The tools were already in place but were not really ingrained into our work lives. That changed overnight when the shelter-in-place order was given.  We asked everyone to use their cameras to assist in more meaningful human connections.  I think it also helped with communication as we know nonverbal communication is important.
Any other comments on the achievement?
We have received many awards over the years, but I am most proud of this one. Our business just doesn't work without our people, and I am grateful the Parallel team believes we have a great culture that enables people to be successful.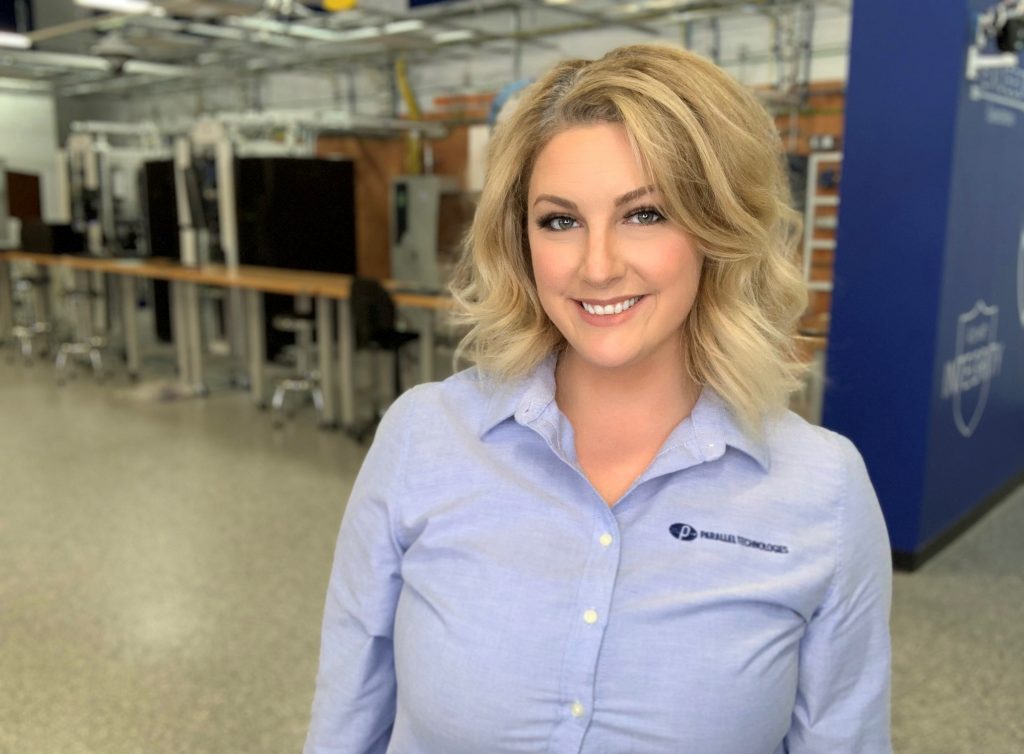 About the Author
Madison attended St. Cloud State University earning a Bachelors of Science in Mass Communications with a specialty in Broadcast Journalism and a minor in Communication Studies. As a Parallel employee of 8 years she has grown from a Project Coordinator to the Marketing and Communications Specialist, a role aligned not only with her experiences but also her passion of telling stories. Madison is responsible for internal and external communications and marketing which include everything from event planning and video production to running company meetings.