Remember last spring when some of us were hopeful that our quarantine would last a few weeks? We would work remotely, stay indoors, social distance and things would hopefully blow over by the summer? It doesn't seem like nearly a year ago since companies had to make a drastic shift to keep their employees, customers and frankly the whole world safe.
According to a study by Upwork, 1 in 4 Americans will be working remotely…and the trend isn't ending anytime soon. The "Future of Workforce Pulse Report" also revealed that by 2025, 36.2 million Americans will be remote full time. This is an 87% increase from levels prior to the pandemic.
I abide by the following points to keep myself organized, on track and healthy as I continue to remote work myself.
Have a Routine
When I used to commute I had to have a routine.
I would wake up, get ready, get my son ready and head out the door. Once at work my day also followed a routine; some morning email catch up, focus time, meetings, then finishing my day with more focus time. This routine also continued as I routed myself back home. See what I am getting to? A routine is an organic and valuable part of our lives. A part that shouldn't be ignored simply because we have the ability to skip a bunch of steps now (goodbye morning rush hour!).
Create a routine for yourself that is the outline of your day and stick to it. Some experts have even gone as far as saying "commute" to work by getting ready in the morning before you start hammering away at emails.
Having a routine helps you to separate your "work home" from your "personal home". Whatever way you routine, after a while it will start to feel…well, routine. At first I will admit it was fun to throw all caution to the wind and work the moment I woke up or late into the evening. However my co-workers who received 9 PM emails weren't as appreciative of my eagerness.
Routine has created a sense of control and formality in my day to day life and I am sure it will for you, too.
Create a Comfortable Space
Remember that office plant you had on your desk (that you hopefully brought home or have watered)? The comfortable ergonomic chair you sat in? Maybe it was the window you could gaze out of, longing for an afternoon walk with your favorite work buddy.
Having a comfortable and inviting place to work will keep you happy and productive. The former of which is something we could all use more of.
Of course we aren't all blessed with space, but if you have it, use it! We can't keep lying to ourselves…convinced that the kitchen table with the hard wooden chair and the horrible background noise is a great place to hunker down and get to work.
Have a desk that is big enough to support all your needs. Get a chair that you can comfortably sit in for hours on end. Turn on some music. Close the door. Do whatever you need to do to be excited about "heading to the office".
Limit Distractions
Speaking of closing the door when you head into the office…limit your distractions. Working around a television or next to your spouse may seem like a fun way to get through the work day but it's hard to get into a groove with distractions like these.
Some of us don't have a choice but to deal with distractions. Many of us are parents who are trying to play the role of teacher and employee all in a day's work – who would have thought?
Having a space for you and a space for your child can help to limit interruptions. And remember that important tip around setting a routine? Perhaps your spouse can start their day early and take the "morning shift" around homeschooling while you take the afternoons. Pairing a productive environment and a solid routine is a recipe for work-from-home and school-from-home bliss.
Use Technology
We are a company that knows a lot about technology and as much as I like seeing my to-do list on a post-it on my monitor, it isn't utilizing the wonderful technologies I have at my fingertips.
When we cannot all be in the same space, it's easy to lose sight of the importance of connecting to your colleagues. Video conferencing certainly helps but our organization needed collaboration tools beyond video. How are we going to send out cascading messages after an eventful meeting? How can we collaborate on a spreadsheet in real-time?
At Parallel, we use Microsoft Teams. This tool fits the bill for all of our needs, whether it's simply chatting, or more involved like tracking tasks. There are a ton of tools out there to use and whether you use them with your colleagues or as a way to manage yourself, they are a lifesaver when it comes to staying on-task.
Discuss Your Day
Face it, we don't miss our commutes but we certainly miss small talk with our colleagues. Frustrating meeting? Go chat with a work buddy! Funny thing happen in the lunchroom? Go tell a work buddy!
The days of running into your office friends may be on the back burner for now, but human contact doesn't require close-quarters. Set 15 minutes aside to chat with a friend or colleague about what is going on in your life both in and out of work. My manager and I have 1 on 1 meetings weekly and we are sure to go beyond what is happening in our home offices.
If the pandemic has taught us anything (outside of how to wash our hands properly, social distance and wear a mask) it has taught us that human connection is an essential part of our mental health. So don't feel too bad when you have spent several minutes of a meeting just catching up with a coworker… your body and soul will thank you for it.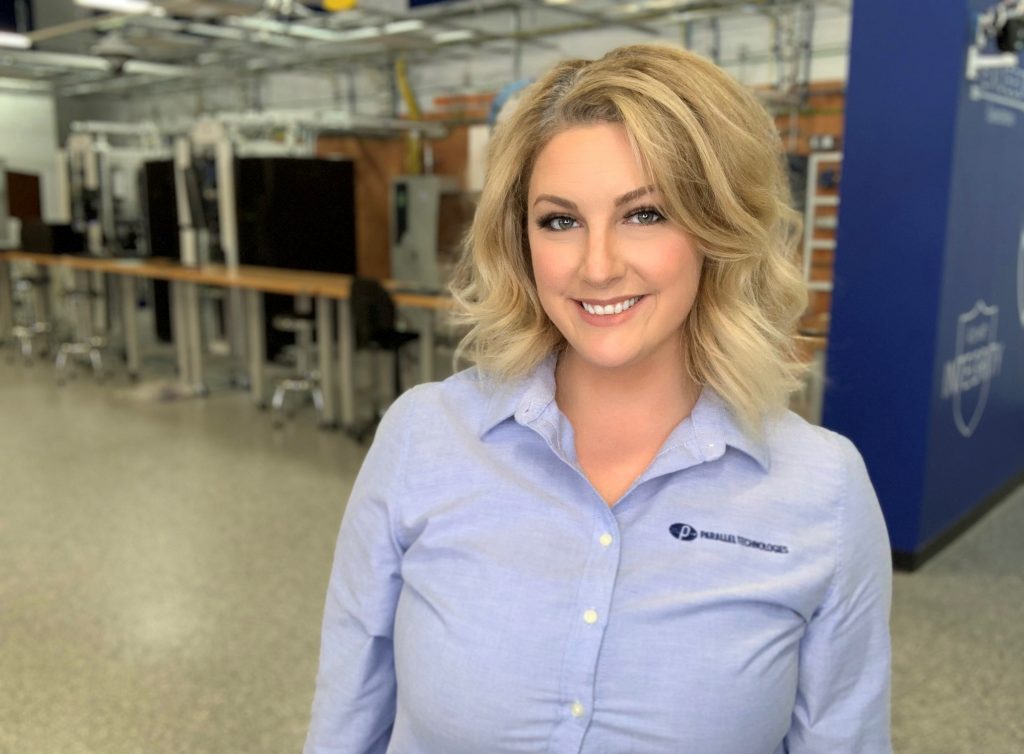 About the Author
Madison attended St. Cloud State University earning a Bachelors of Science in Mass Communications with a specialty in Broadcast Journalism and a minor in Communication Studies. As a Parallel employee of 8 years she has grown from a Project Coordinator to the Marketing and Communications Specialist, a role aligned not only with her experiences but also her passion of telling stories. Madison is responsible for internal and external communications and marketing which include everything from event planning and video production to running company meetings.