Parallel's Project Management Office continues to grow! We welcome Jack Lindquist who is our new Project Coordinator. Read on to learn more about Jack:
Q: How did you end up at Parallel?
I had accepted a job offer at my previous employer before I graduated from the University of Minnesota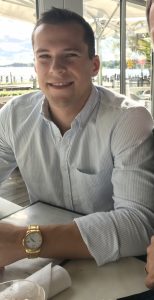 in May. I spent six months in that role and found out that it was not a good fit for me. So, I decided to explore opportunities that would have me working as a part of a project management team. I knew tha
t my friend, Anthony Sather, had recently started working at Parallel. Anthony raved about the people and culture, so I put my hat in for the Project Coordinator position. As I went through the interview process, I successfully passed an exam to become a Certified Associate Project Manager. I found myself becoming fascinated with the technologies and services offered by Parallel, and luckily enough, I'm now in a position to learn even more about them!
Q: What are you currently working on?
My primary focus is working toward mastering my role so that I can best support the Project Management Office. Right now that consists of asking a lot of questions and refining and documenting my processes to minimize errors and maximize productivity. Beyond that, I'm beginning to get familiar with the National Project Management process and engaging in a few side projects as well.
Q: Three fun facts about you?
1.       My life goal is to write a book.
2.       I love to lift weights and exercise.
3.       I just started hunting and ice fishing this year. I love it!